Welcome to Brisbane, the capital of Queensland, and is a vibrant and cosmopolitan city situated in the heart of the Sunshine State. With a population of approximately 2.5 million people, Brisbane is the third-most populous city in Australia. And offers a wide variety of activities and attractions that are perfect for international travellers. There are so many things to do in Brisbane and that can be difficult to know where to start, but here are some of the top things for you do in Brisbane while you visit.
Welcome to Brisbane Moreton Island
Moreton Island is a beautiful, sandy island located off the coast of Brisbane. It is one of the most popular tourist destinations in Queensland, and for good reason. The island is home to a variety of unique flora and fauna, including dolphins, turtles, and humpback whales. Visitors can explore the island on foot, by bike, or by 4WD, and there are many activities to enjoy, such as snorkelling, fishing, sandboarding, and more. You can take a ferry to Moreton island or you can jump on some great tours that will return from Brisbane.
One of the most popular spots on Moreton Island is the Tangalooma Wrecks, which is a collection of sunken ships that have become a haven for marine life. Visitors can snorkel or dive amongst the wrecks and see a variety of fish, stingrays, and even sharks.
Getting to Moreton Island
There are several ways to get to Moreton Island from Brisbane. The easiest way is to take a ferry from the Port of Brisbane, which takes approximately 75 minutes. The ferry runs several times a day, and tickets can be purchased at the dock or online.
Lone Pine Sanctuary
Lone Pine Koala Sanctuary is a popular wildlife park located in the Brisbane suburb of Fig Tree Pocket. It is home to over 130 koalas, as well as other Australian animals such as kangaroos, wallabies, wombats, and emus. To get there from Brisbane, you can take a bus from various locations in the city. The 445 and 430 buses run from the city to Lone Pine, and you can catch them at the Cultural Centre Busway Station or King George Square Bus Station. The journey takes around 30-40 minutes. You can also taker a return river cruise to Lone Pine Sanctuary thats very popular as well.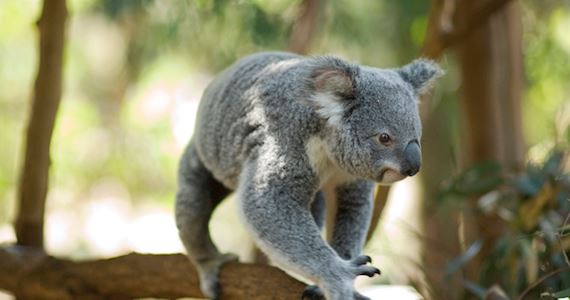 Mt Coot-tha Lookout
Located just a short drive from Brisbane's city centre, Mt Coot-tha Lookout offers panoramic views of the city and surrounding areas. The lookout is situated at the top of Mt Coot-tha, which is the highest peak in Brisbane and offers stunning views of the city skyline, the Brisbane River, and the surrounding bushland.
Visitors can enjoy a range of activities at Mt Coot-tha Lookout, including hiking, cycling, picnicking, and sightseeing. The lookout is also home to the Mt Coot-tha Botanical Gardens, which are a beautiful and peaceful place to explore.
Welcome to Brisbane Story Bridge
The Story Bridge is an iconic landmark in Brisbane and is one of the most recognisable structures in the city. The bridge spans the Brisbane River and connects the north and south sides of the city. Visitors can take a Guided Day, Twilight and Night tour to the top of the bridge and enjoy stunning views of the city and surrounding areas.
The Story Bridge climb is a unique and exciting experience, and it's a great way to see Brisbane from a new perspective. The climb takes approximately 2 hours and is suitable for people of all fitness levels.
Australia Zoo
Located just a short drive from Brisbane, Australia Zoo is one of the most popular tourist attractions in Queensland. The zoo was made famous by the late Steve Irwin, who was known as the Crocodile Hunter. The zoo is home to a range of animals, including crocodiles, tigers, koalas, and more.
You can also take the train from Brisbane return $22 and add on a Zoo Ticket.  If you are driving however you can also stop off at the Glass House Mountains.
Visitors can enjoy a range of activities at Australia Zoo, including feeding the animals, taking photos with the animals, and watching live shows. The zoo is also home to a wildlife hospital, which treats injured and sick animals.
Getting to North Stradbroke Island
North Stradbroke Island is located off the coast of Brisbane and is one of the most popular tourist destinations in Queensland. Visitors can enjoy a range of activities on the island, including surfing, swimming, fishing, and more.
The easiest way to get to North Stradbroke Island is to take a ferry from Brisbane's Cleveland Point. The ferry runs several times a day, and tickets can be purchased at the dock or online. Once on the island you can take a jump on jump off bus cost around $10.
Whale Watching
Whale watching tours in Brisbane are a popular activity from June to November. Humpback whales migrate through this area during this time, and you can spot them from a boat tour. There are a few tour operators that offer whale watching tours from Brisbane, including Whale Watching Brisbane departing Brisbane, Moreton Bay Whale Watching, and Tangalooma Island Resort. Some of these tours depart from the Brisbane CBD, while others depart from nearby areas such as Redcliffe or Moreton Island. You can expect to see humpback whales breaching, tail slapping, and spyhopping, as well as other marine wildlife such as dolphins and turtles.
Welcome to Brisbane Nightlife
Brisbane has a vibrant and diverse nightlife scene, offering a range of bars, clubs, restaurants, and entertainment venues. Here are some popular options for a night out in Brisbane:
Fortitude Valley:
Known as Brisbane's entertainment precinct, Fortitude Valley is home to an array of bars, clubs, and live music venues, catering to all tastes. The Valley Mall, Winn Lane and James Street are some of the key places to visit.
South Bank: With stunning views of the Brisbane River, South Bank is a popular destination for people looking for a night out. It offers various restaurants, bars, cinemas, and live music venues, particularly on Friday and Saturday evenings.
Fallons Brewery
Felons Brewery is a beer brewery located in Brisbane. The brewery produces a range of craft beers, including pale ales, lagers, and seasonal brews. The brewery is located in Howard Smith Wharves, an entertainment and dining precinct under the iconic Story Bridge in Brisbane. Felons Brewery also operates a bar and restaurant at the precinct, serving up great brews and delicious food to locals and tourists alike.
West End
Brisbane's West End is a vibrant and eclectic inner-city suburb located just 2km from the city centre. It is known for its trendy and diverse dining scene, cultural attractions, boutique shopping, and lively street markets.
One of the main features of West End is Boundary Street, which is lined with cafes, bars, and restaurants. The suburb also has a strong artistic and cultural scene, with numerous galleries, theatres, and live music venues.
Other popular landmarks in West End include the iconic Brisbane Powerhouse arts precinct, the South Bank Parklands, and the Queensland Museum and Gallery of Modern Art.
West End is a diverse suburb with a mix of students, professionals, and families. It is also a hub for sustainability and eco-living initiatives, with numerous community gardens and environmental groups calling the area home.
Eat Street
Located just 15 mins from Brisbane CBD and 12 mins from the international airport on a disused historic wharf over the Brisbane River – Covering over several hectares of land and built from 180 repurposed recycled shipping containers – Eat Street Northshore is an endless fun-filled adventure that will satisfy your taste buds matched with some of the best local live entertainment Queensland has to offer.
Featuring over 70 traders including 5 themed bars, eclectic shops and micro restaurants offering delicious dishes and tasty treats from six of the world's seven continents including Asia, Australia, Europe, North America and South America.
Overview
Overall, Brisbane's night life is lively and diverse, catering to a range of tastes and interests. From live music to fine dining, you can certainly have a great night out in Brisbane.
In conclusion, Welcome to Brisbane is a beautiful and vibrant city that has something for everyone. Whether you're looking to explore Moreton Island, take in the stunning views from Mt Cootha Lookout, climb the Story Bridge, or visit Australia Zoo, there's no shortage of things to do in Brisbane for international travellers. So, pack your bags, book your flights and come explore Brisbane!
Looking for some other great trips checkout Cheap Az Travel Melbourne