Noosa is a paradise and coastal town situated in the heart of the Sunshine Coast in Queensland, Australia. It is a popular destination for tourists from all over the world, and for good reason. Noosa is a paradise for all kinds of travellers. With Noosa's amazing weather all year round and its perfect for adventure seekers and nature lovers.
Noosa Everglades
If you're looking for adventure, there are plenty of tours and activities that you can enjoy in Noosa. For starters, you can go on a kayak tour of the Noosa Everglades. The Noosa Everglades are an incredible and unique ecosystem, considered one of Australia's most preserved wilderness areas. And are definitely worth exploring.
The Noosa Everglades are a must-visit destination when in Noosa. And there are various tours to choose from, depending on your interests. You may choose to explore the Everglades on a guided kayaking tour. Where your knowledgeable guide will point out the diverse flora and fauna that call the area home. And you can marvel at the lush greenery and the serene waterways of the region. And perhaps see some of the endangered and rare wildlife that inhabits the area.
Alternatively, a tour on a freshwater boat will carry you lazily through the pristine water. Allowing you a viewing of the many birds and perhaps even a glimpse of a rare species such as the lungfish or Mary River turtle.
Walks & Hikes
Noosa is a paradise for walking and hiking if it is more your style, you'll be pleased to know that Noosa has some of the most beautiful hiking trails in Australia. Noosa National Park offers stunning coastal walks, with breathtaking views of the ocean, golden beaches, and headlands. The park extends across 4,000 acres and is home to a variety of wildlife, including koalas, kangaroos, and dolphins. The Hinterland also offers some of the region's best trails, and if you're up for a challenge, you might even want to try the summit of Mount Cooroora.
Skydive
Skydive from up to 15,000 feet above those glorious blue seas. After racing through your freefall at a casual 200kms an hour, you'll hit the euphoric parachute point. This is 5-7 minutes spent viewing the Sunshine Coast from a whole new angle. 
Accommodation in Noosa
Noosa shire has a population of around 57,000, and the town is bustling with tourists all year round. However, finding affordable accommodation here is possible, as there are plenty of low-cost options available. The town is home to a range of backpackers hostels, campsites, and hotels that offer great value for money. So you can enjoy your stay in the town without breaking the bank.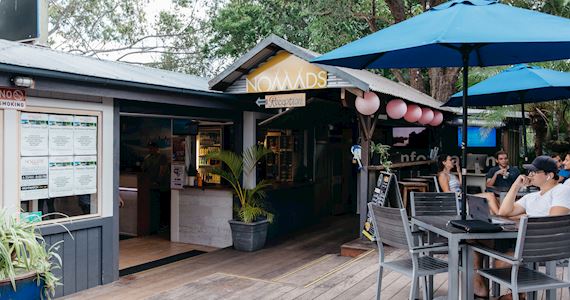 If you are interested in visiting Fraser Island, there are several tour providers that offer a variety of Fraser Island tour options. One popular option is a day tour that allows you to explore the spectacular scenery of the island, including its pristine beaches, stunning sand dunes and crystal-clear freshwater lakes. These tours are perfect for all fitness levels and can accommodate all kinds of travellers, from families to solo travellers. There is also 3 day 2 night tagalong 4wd tours that are very popular with backpackers.Tagalong tours you follow the leader style in a 4wd behind each other These tours include camping or hostel stays on Fraser island and include all your food.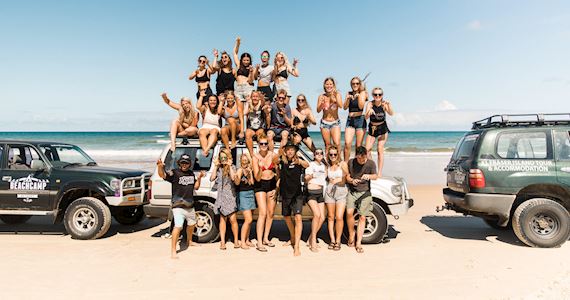 Getting to Noosa from Brisbane is easy. The best way to travel is by bus or train. From Brisbane, the train leaves from the Roma Street Station and takes about two and a half hours to get there. Bus services are also available, and run regularly from several points in Brisbane with Greyhound and Premier bus.
Noosa is a paradise for surfing
And of course Nossa is famous for surfing so get some surf lessons. If you're a beginner, it's highly recommended to take some surf lessons from a qualified instructor. And it has plenty of surf schools that offer lessons for all levels. Main Beach is a popular tourist destination. It is a beautiful stretch of sand that runs along the coast, providing visitors with stunning views of the ocean. The beach is known for its clear blue waters, gentle waves, and clean sand, making it a great spot for swimming, surfing, and sunbathing. There are plenty of amenities nearby, including restaurants, cafes, and shops, and the National Park is just a short walk away. Main Beach is a must-visit destination for anyone looking for a relaxing day at the beach.
Cheap Az Travel thats a rap
Noosa is a fantastic destination for travellers from all over the world. From hiking and kayaking to exploring the stunning coastline, there is something here for everyone. The town offers excellent accommodation options, even for budget travellers, and its location on the Sunshine Coast provides tourists with easy access to a range of attractions and activities. So, if you're planning a trip to Australia, be sure to add it to your itinerary and experience its natural beauty, and laid-back coastal lifestyle.